Peace is one of the cornerstones of our activities as a charitable organization.
Such a sentence begins the presentation of RI's goals on its portal:  Promoting Peace (https://www.rotary.org/en/our-causes/promoting-peace)
We Poles are, after February 24 this year, especially inspired by this goal. Our closest neighbors, the Ukrainians, in their quest for democracy and freedom, have been attacked by their neighbor – the imperial heir to the SovietUnion – Putin's Russia.
Unable to remain indifferent, our entire district , 2231 stood up to help and support.  I want to write here how we, i.e. the Rotary Club of Krakow, are participating in this joint effort.               From the beginning of the aggression, we were inundated with letters, text messages, emails and inquiries from Rotarians from many places around the world, as well as people close to Rotary, offering their help.  We directed everyone to a coordinated district action, asking them to give financial support. We did not have a chance to know all the helpers who contributed to the account of the Zamosc Club, which manages the district aid.
However, many donors both donating material and financial assistance approached our club directly, hoping for direct club assistance. These actions have accumulated in abundance: from purchases, logistical assistance to personal assistance.
A large shipment – 23 pallets of gifts from the Ukrainian Greek Catholic Church in the US, with our help and administrative support, arrived in Poland by sea and eventually landed in Lviv.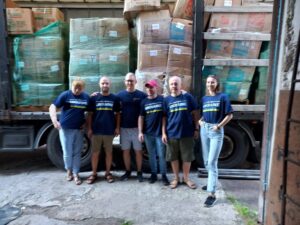 Our regular financial support feeds a foundation that runs a lodging house for refugees (including those from Belarus). They have been offering a roof over their heads and round-the-clock food for about 150-200 needy people since the war began. Thanks to our contacts with the "Doctors of Hope Association", persons from the dormitory have an access to free medical care at their clinic.
The suburban house of one of our members, has been adapted into a shelter for families with children, and the club supports this action materially.
We have repeatedly made purchases of daily necessities, donating them to points receiving refugees from Ukraine.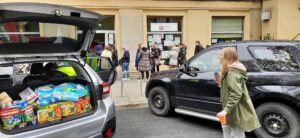 At the request of one of the hospitals in Stanislaviv in Ukraine, we have on a few occasions purchased the necessary dressing materials, medical supplies and medicines of the first wartime need.
In cooperation with the Wawel club and the Paris district , we organized the transport and distribution of about 40 complete computer sets, offered by a large food industry corporation from France. The computers went to schools in Malopolska that run Ukrainian language classes for refugee children.
Our main aid achievement was to organize the purchase and donation of three cars – ambulances – to Ukraine. There is no need to justify how much this type of car is needed in wartime conditions. These were various ambulances.
The funds for these purchases came mostly from collections from our American colleagues as well as cooperating European clubs.
The first was an armored car, originally intended for bank transport. We purchased it at the suggestion of well-known journalist-reporter and expert on Russia and Ukraine Jack Hugo-Bader, who had brokered other such operations before. Our purchase was technically modified to carry people, wounded, in a reclined position, and handed over with Jack Hugo Bader's help to a military unit in eastern Ukraine. And we already know – we received a video of the transport of a wounded soldier – that our gift is doing its job.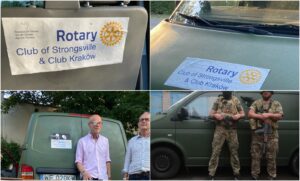 The second ambulance – a fully equipped Mercedes-Benz – was purchased in Germany by our partner club from Bielefeld. A big help was the support received from the Knights of Malta of Germany, and the Joannites, which are the Protestant branch of this esteemed order.
Our club contributed with a cash donation and also logistical help with the handover to the Ukrainian side – but more on that later.  The ambulance from Germany was richly equipped with additional medical equipment, which significantly increased its usefulness.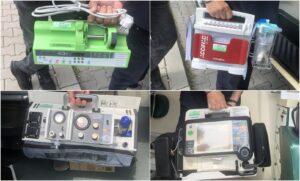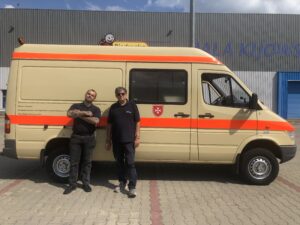 And finally, the third ambulance, our 'stand- alone' purchase of a Renault vehicle as a gift to a charity organization in Ukraine – "SAFE GRANTS Charitable Fund" from Kiev, which cooperates with the Ukrainian armed forces and so the final recipient must remain anonymous.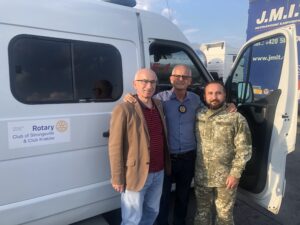 The transfer of the two ambulances, was organized in one day by our club. The procedure itself took practically a whole day for various, including humorous reasons – when the German ambulance drivers arrived without passports and could not enter the border crossing. This is how Ukraine is understood from a distance. Fortunately, all ended well and the ambulances left to do their duty.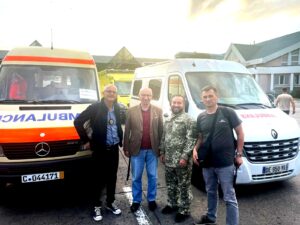 My account of our aid service so far to the struggling Ukraine – which is continuing – I will end with a number. Our support – is a total of about 150 thousand zlotys (not counting the ambulance from Germany worth about 39 thousand €) obtained from the contributions of our members and friends, and various institutions (including Rotary, but not only) abroad both from Europe and in significant part from the USA.
Have a look how our ambulances wear field battle dresses and how help in Ukraine.